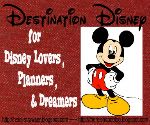 So I just posted my letter A blog from last week with Heidi and now I'm posting my B blog!! Thanks Heidi for hosting and don't forget to check back at what others had to share for the first 2 letters of the alphabet!
B. When I think of B and Disney, I think of:
Buttons.
Beauty and the Beast.
Beautiful Landscaping.
Boardwalk.
Beaches and Cream.
BLOGORAIL!!!